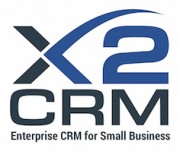 X2CRM and AdvantageCRM are hosting a live Webinar with David Parker, President Parker Insurance and John Roberts CEO and Founder of X2CRM on January 27th 10:00 am PST.
Santa Cruz, California, January 25, 2016 (Newswire.com) - X2CRM would like to invite you to join us for a very interesting joint webinar with one of our go-to services partners, AdvantageCRM. X2Engine and AdvantageCRM have been working together for several years now so we thought it might be interesting to highlight a customer in the healthcare insurance industry.
In the US our medical insurance industry has gone through massive changes due to new government legislation. Traditionally medical insurance brokers would sell to companies directly who managed medical plans for their employees. So a broker could have thirty accounts with 100-2000 employees per account. Today, employees can buy their medical insurance directly which means for brokers they have to go from having a relationship with 30 key accounts to over 3000 direct employees. This has turned out to be a big problem for brokers to manage both corporate and individual medical insurance accounts efficiency and profitably.
David Parker, President of Parker Insurance has graciously agreed to share his story as an owner of an insurance agency and how he has deployed X2CRM to take advantage of this opportunity. We believe the lessons of David's customer case study apply to many other business types as well. We hope you will join us by registering for this webinar athttp://www.getcrm.net.
Share: