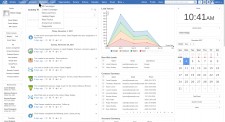 X2CRM continues to grow X2HubService by offering new capabilities with GSuite, DocuSign, LinkedIn, Twitter and Dropbox
SANTA CRUZ, Calif., December 7, 2017 (Newswire.com) - X2Engine Inc., a global provider of enterprise open source Customer Relationship Management (CRM) software, marketing and cloud services, announces the version 6.9.1 feature release of its enterprise CRM software.
X2CRM is an all-in-one CRM-plus-marketing automation platform. Not only does it offer an extensive number of natively built functionality for nearly every aspect of your business, but X2CRM also constantly adds new third-party integrations. In addition to the new connections mentioned within this release, X2HubService already offers extensive GSuite synchronizations for increased collaboration and productivity. If your business uses GSuite, then you can take advantage of the Google sign-in, Google Calendar sync, Google Drive access, Gmail sync, Google Maps widget and Contact Heat Map and Google+ Profile widget and profile search directly within X2CRM.
With X2HubServices, sales representatives and marketers get the maxim benefit from social media intelligence, creating a better customer experience.

John Roberts, Founder/CEO of X2Engine
With its newest release, X2CRM is introducing an updated user interface, new toolbar drop-down menus, an Admin dashboard, a DocuSign plugin, expanded Twitter and LinkedIn functionality and Dropbox document sync.
X2CRM V6.9.1 Update Highlights:
DocuSign Plugin
Businesses can now integrate DocuSign with their X2CRM deployment. Once users configure their DocuSign account, a "Send Document" button will appear at the top of a contact's screen. With a single click, users can send documents within X2CRM directly to any contact they choose. This new integration also creates DocuSign templates, where X2CRM will remember where users save fields. X2CRM can even send multiple documents to multiple recipients with a single click.
Expanded LinkedIn and Twitter Functionality
A contact's Twitter stream can now be displayed directly within their contact page. X2CRM will automatically create a Twitter widget whenever a contact's Twitter handle is added. By seeing a contact's feed directly within their page, sales representatives can uncover new leads to further business relationships.
​
Users can now sync their personal LinkedIn profiles with their X2CRM account to easily update their current information. Personal information, such as their contact information or job title, will automatically be updated on their LinkedIn profiles.
Dropbox Document Sync
If Dropbox is synced with a user's X2CRM account, it will allow any documents within the X2CRM Documents module to seamlessly sync with a corresponding Dropbox account. This ensures that X2CRM documents are automatically backed up and accessible whenever users need them.
Admin Dashboard
The X2 Admin Dashboard is a one-stop diagnostic tool for a business' server and application. We developed this tool as part of our effort to ensure that X2CRM customers have complete control over their deployments. Administrators can easily analyze application logs, view database entries and running processes and monitor various system metrics. The Admin Dashboard's visual gauges make it easy to analyze a server's CPU usage, memory usage and disk space.
Enhanced User Experience
With this update, the X2CRM has added new features for an enhanced user experience. The X2CRM toolbar now has drop-down menus. Simply hover over a module listed in the toolbar and select the exact page or action you want to use. These drop-down menus allow users to easily access some of the most frequently used features within X2CRM, making the user experience more intuitive and productive.
As part of our enhanced user experience, there are also some minor changes to X2CRM's user interface (UI). Changes in the color scheme, spacing and font give the entire CRM application a new feel. Users will be able to navigate X2CRM's pages easier, boosting productivity and usage. This UI update is the first step of an entire application overhaul, which will be available in our future 7.0 release.
About X2CRM
X2CRM | X2Engine, Inc. of Santa Cruz, California, is a global provider of enterprise open source Customer Relationship Management (CRM) software, Marketing Automation and Cloud Services. X2Engine was founded in 2011 by John Roberts, a CRM entrepreneur with the mission to create an enterprise CRM platform with built-in workflow and process automation designers. Translated into over 15 languages, X2CRM today is one of the fastest-growing open-source CRM applications worldwide with over 40,000 deployments. Visit http://www.x2crm.com or call (831) 900-5830 to learn more.
Source: X2Engine Inc.
Share: